Adobe Photoshop Camera is a mobile app that allows you to take photos with filters and is based on the Adobe Sensei AI system. Recently Adobe Photoshop Camera preview version has become available for download.
Get from play store | Get from app store
VERDICT: Photoshop Camera offers a huge number of integrated and downloadable effects and filters you can use to edit your shots. A specially trained neural network is responsible for the way they work and are applied. The AI can identify the objects in the frame and offer suitable effects for each specific scene.
Pros
User-friendly
Good editing tools
Filters made for Instagrammers
Works on various smart phones
AI shows some promise
Cons
Too many lags with real-time photo editing
AI needs extra work
Low-light and night shooting
Only uses phone's main lens
Some filters and effects don't work properly yet. There are still improvements to be made with its object edge detection feature. However, even now the app helps you take amazing and unusual shots.
Adobe Camera app is still being tested and doesn't work perfectly even on the flagship phones, causing. Over the course of the past few years, Adobe has been trying to incorporate the capabilities of Artificial Intelligence into their software. This made work with them simpler and received a warm welcome from users. Currently, they started creating software based on Adobe Sensei and Photoshop Camera is the first app they have released. lagging and overheating. To make a definitive conclusion about the product, we must wait for its final release.
Officially, Adobe says the app works with iOS, Android 9 and up, though more specifically mentions the following devices:
Pixel 3/3 XL, Pixel 4/4 XL
Samsung S9/S9+, Samsung S10/S10+/S10 5G, Samsung Note 9, Samsung Note 10/10+/10 5G, Samsung Galaxy S20 5G/S20+ 5G/S20 Ultra 5G
One Plus 6/6T and above
iPhone 6 and above
Real-Time Photo Editing Capability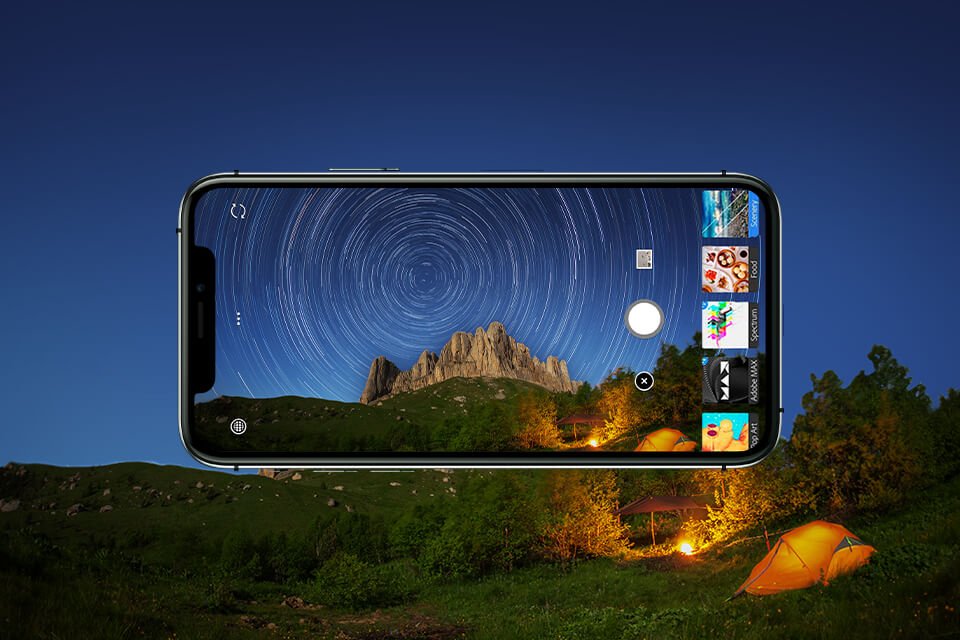 With the help of Adobe Sensei, the app can recognize objects in the photograph, provide recommendations, as well as automatically apply complex effects at the moment of taking a photo (for example, there are special modes for portraits, landscapes, selfies, food photos, etc.), but the app keeps the original image intact as well.
According to the developers, the app "breaks down" the photo into specific technical elements, such as dynamic range, tone range, type of scene, so that every user has a possibility to use proper filters and effects.
It will automatically select lighting and remove perspective distortion. For fine-tuning, some of the parameters can be adjusted manually, these are shadows, highlights, exposure, etc.
Enhancing Photos from the Gallery
Besides applying filters when you are taking a photo, Photoshop Camera can be used as a free photo editor. You simply need to tap "Library" when you are taking a shot.
You can select any image from your phone's gallery and start editing. The editing interface reminds me that of Instagram when you are adding an image or video to Stories. There are 10 types of filters that are available from the beginning, but you can download more.