Elon Musk's Tesla incorporated its Indian subsidiary Tesla India Motors and Energy Private Ltd in Bengaluru on January 8. Vaibhav Taneja, Venkatrangam Sreeram, and David Jon Feinstein are directors of the new entity.
Tesla, the world's most valuable carmaker, has launched an Indian subsidiary as it prepares to create a much-awaited manufacturing plant and R&D unit in India.
The unit named Tesla India Motors and Energy Private Ltd was incorporated in Bengaluru on January 8, and Vaibhav Taneja(CAO at Tesla Inc.), Venkatrangam Sreeram, and David Jon Feinstein have been named as directors, according to disclosures with the corporate affairs ministry.
A government official requesting anonymity told CNBC-TV18 that Tesla may not set up a manufacturing plant in India initially. "Tesla's China factory may work as the primary sourcing point initially. Tesla may start assembling vehicles in India after visible demand."
It is a private unlisted company with an authorized capital of Rs 15,00,000 and a paid-up capital of Rs 1,00,000.
A quick search reveals that Venkatrangam Sreeram is a Bengaluru entrepreneur, who built two automotive startups – Xenon Automotive and Cleartquote Technologies in India. Last but not least, Feinstein is currently a senior executive at Tesla, according to his LinkedIn profile.
In a now-deleted tweet, Karnataka Chief Minister BS Yediyurappa welcomed Tesla to India and confirmed that the carmaker is setting up an R&D facility in Bengaluru. You can see a screenshot of the tweet attached below: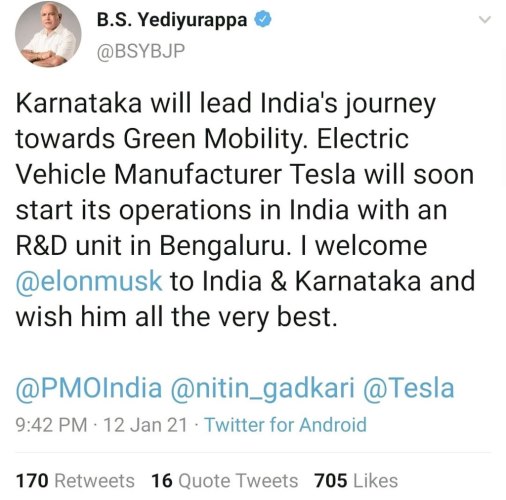 Apart from Bengaluru, Tesla is rumored to be in talks with as many as five state governments including Maharashtra, Gujarat, Andhra Pradesh, Karnataka, and the state of Tamil Nadu. It is looking to set up operations and bring its affordable electric car, Tesla Model 3, to India by June 2021. There are also rumors that Tesla is signing an MoU (or partnering) with Tata Motors to manufacture its electric cars in India. We suggest you take this with a grain of salt though. Nothing is confirmed as of now and we should wait for an official announcement.